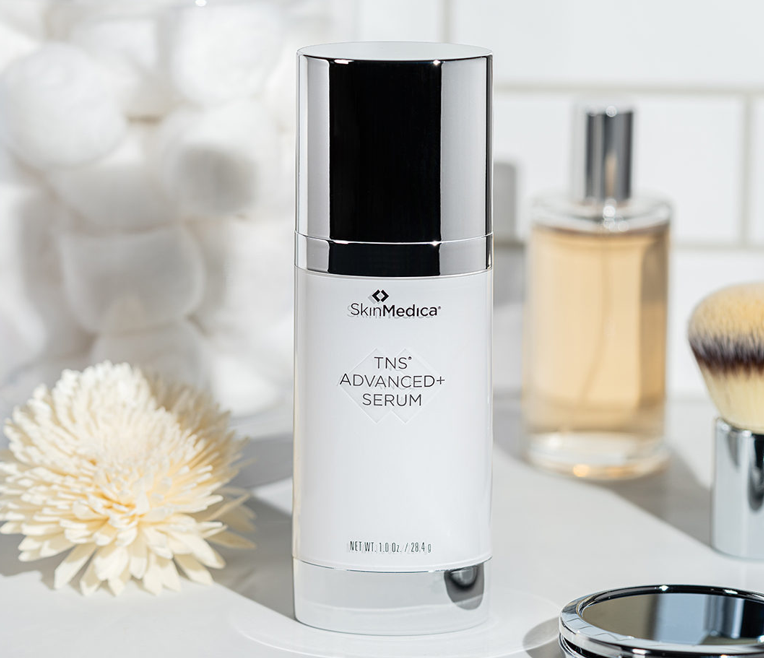 SkinMedica® TNS® Advanced+ Serum is a powerful and advanced skin care product that can help to rejuvenate the look and feel of your skin. This serum contains a variety of powerful age-defying ingredients, including antioxidants, peptides and a next-generation growth factor blend, all of which work together to improve the appearance of fine lines, coarse wrinkles, skin tone and texture. It is also the only growth factor product clinically proven to address sagging skin.1 TNS® Advanced+ Serum is available at Orlando Skin Solutions and is perfect for all skin types!
Visible Improvements in Just 2 Weeks
In just two weeks, visible results leave your skin looking smoother, brighter and more youthful, and results continue to improve through 24 weeks of use. 1 Whether you're looking to reduce the signs of aging or simply maintain youthful, healthy-looking skin, TNS® Advanced+ Serum is an excellent choice in Winter Park, Florida.
Turn Back the Clock on Your Skin
Clinically proven results
Smooths visible coarse wrinkles & fine lines
Supports skin's renewal processes
Visibly lifts sagging skin
Evens out skin tone and texture
Support repair functions
Supports collagen and elastin levels
Nourishes your skin
Results start in just 2 weeks of use
Progressive results measured over 24 weeks
Colorless, fragrance-free, lightweight, matte finish
Suitable for all skin types
TNS® Advanced+ Serum has been created with all skin types in mind. Its advanced growth factor and peptide blend supports healthy skin functions and nourishes your youthful complexion. French flax seed, marine extract and green microalgae combine to support the skin's renewal processes and repair functions, as well as boost collagen and elastin levels. As we know, the more collagen we produce, the firmer and younger our skin appears. TNS® Advanced+ Serum also contains a powerful blend of supportive ingredients, including SkinMedica® Renessensce (RSC) Advanced blend of peptides and botanical and marine extracts.
Ingredients
Chamber 1:
TNS®-MR
This advanced formula acts on multiple levels to achieve age-defying results.
*Next-generation growth factor blend — supports healthy skin functions
*Innovative peptide complex — nourishes your skin
Chamber 2:
RENESSENSCE (RSC) ADVANCED
Specifically designed to support the results of the growth factor blend, this highly active combination of botanicals, marine extracts and peptides includes:
*French flax seed — supports repair functions
*Marine extract — supports skin's renewal processes
*Green microalgae — supports collagen and elastin levels
Clinical Research
*6 Years Younger — A trusted third-party analysis revealed that after just 12 weeks of use, study participants felt they looked up to 6 years younger. 1
*Appearance of Sagging Skin — After only 8 weeks, patients experienced significant improvements in the appearance of sagging skin. 1
*Progressive Improvement — Study participants reported feeling increasingly satisfied with the continued use of TNS® Advanced+ Serum measured over the course of 24 weeks. 1
How to Use
*Apply SkinMedica® TNS® Advanced+ Serum in the morning and evening after cleansing and toning your skin.
*Dispense TNS® Advanced+ Serum on the back of your hand and blend together before applying to your skin.
*Apply to your entire face, and if desired, apply to your neck and chest as well.
How To Buy SkinMedica® TNS® Advanced+ Serum
Experience the powerful results of TNS® Advanced + Serum for yourself! Shop online with free shipping or visit Orlando Skin Solutions in beautiful Winter Park, Florida to purchase yours, today!
—
Reference:
1 Results from a clinical study using TNS® Advanced+ Serum twice daily for 24 weeks. Data on file with SkinMedica®.