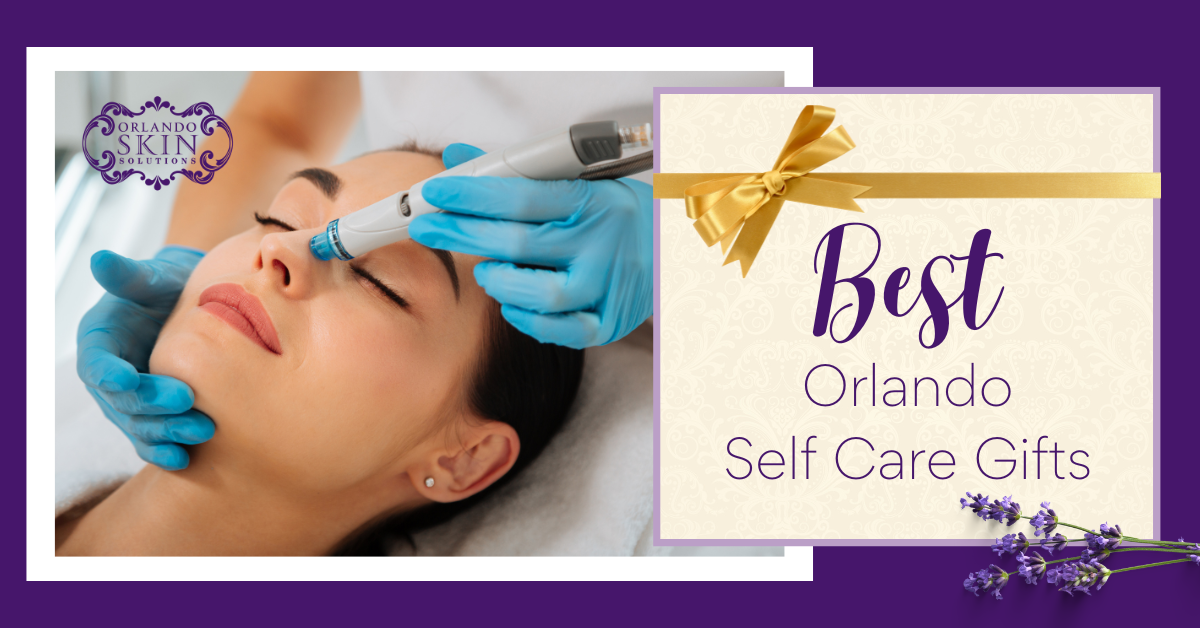 Treat Your Loved Ones to the Ultimate Wellness Experience
"The best gifts come from the heart, not the store." Sarah Dessen, American Novelist

Tired of giving the same old, boring and predictable gifts year in and year out? If you're seeking the perfect gift for the special person in your life, look no further!

Below we've compiled a list of the 5 best Orlando self care gifts that take personal care and relaxation to the next level. These are the best types of wellness gifts no matter what time of year because what you're really giving is the ability for people to:
Feel Better About Themselves
Take Care of Their Body and Mind
Lead a Healthier and More Confident Lifestyle
According to Forbes, "Wellness and self care have been experiencing a serious renaissance over the past couple of years … This revolution just keeps getting more interesting as brands and technologies recognize more of what people need to prioritize wellness and feel good about their mind, body and spirit."
Quick and thoughtful, these unique self care gift ideas will please anyone on your gift list in the Orlando area – whether you're shopping for a partner, friend or family member. 

1. Pamper Them with an Exceptional Luxury Med Spa Experience
"Look and Feel Your Best!" Renowned as the premier luxury med spa Winter Park experience, Orlando Skin Solutions features the latest, most innovative skincare treatments that rejuvenate and enhance your natural beauty. The dedicated team of specialists at Orlando Skin Solutions offer the highest-quality cosmetic medical treatments – including Facials, Fillers, and much more – in a luxurious, relaxing medical spa atmosphere just 15 minutes north of downtown Orlando. Since Orlando Skin Solutions offers customized treatments, the cost varies per individual. However, gift certificates are available for any service and for any amount.
2. Surprise Them with an Invigorating Stretch Session
"Give the Gift of Flexibility!" A unique and refreshing wellness concept, StretchLab Winter Park features customized assisted stretch sessions in a relaxing group setting. Stretching at StretchLab helps reduce muscle and joint pain, increase range of motion and flexibility, improve posture, reduce stress and improve athletic performance. Conveniently located along Orange Avenue, StretchLab Winter Park offers customized gift cards for a variety of stretch sessions. One-time introductory stretch sessions cost $49 for 50 minutes.
3. Treat Them to the Premier Blowout Experience
"No Cuts. No Colors. Just Blowouts!" A luxury hair salon, Drybar Winter Park specializes in blowouts with names such as "The Manhattan," "The Straight Up," The Mai Tai," "The Cosmo" and "The Southern Comfort." Blowouts range from $49 to $70 and gift cards are available. DryBar Winter Park is located at Palm Hills on Orange Avenue.
4. Introduce Them to the Ultimate Relaxation of a Float Tank
"Book a Float!" Billed as "a sensory deprivation experience unlike any other," Total Zen Float features float tanks that provide an eclectic and transforming approach to mental and physical relaxation. Both 60- and 90-minute floats are available. Locally owned and operated, Total Zen Float is located just north of Orlando in Casselberry and offers gift cards for any of their float sessions and packages. Single float sessions are $49 for a first-time, 45-minute float and $69 for a first-time, 90-minute float.

5. Indulge Them with a De-Stressing Yoga Workout
"Inspiring a New Generation of Yoga!" As a self-care strategy, Yoga offers a holistic and balanced approach to wellness and strengthens emotional resilience to help prevent stresses in everyday life. An award-winning yoga studio, College Park Yoga has been "the go-to yoga studio for mental and physical fitness" in Orlando for over two decades. Gift certificates are available for a variety of yoga classes at College Park Yoga, where beginners are always welcome. Prices range from $25 for an in-studio 1 class pass to $85 for a 50-minute private session.

Giving the thoughtful gift of self care offers a genuine way to show that you care. The above Orlando self care gift ideas will leave your loved ones enthused and excited as they provide them with self-care and wellness inspiration all year long!