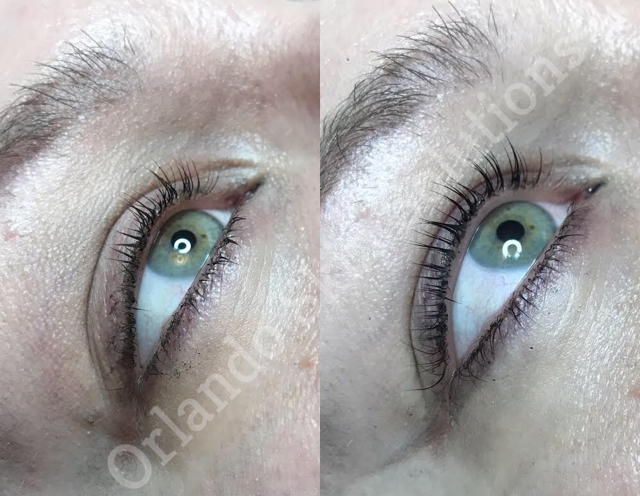 Dreaming of waking up with luscious eyelashes? Eyelash extensions are expensive and time-consuming to maintain. Strip lashes are messy and often do not achieve a natural look. Ditch the old options and learn how Orlando Skin Solutions in Winter Park, Florida can help make your dream lashes a reality with a Lash Tint and Lift!
What is a Lash Lift?
A lash lift is a semi-permanent lash shape and curling treatment that eliminates the need for an eyelash curler, which can cause unnecessary lash wear and tear. The best look will be achieved on someone who already has some length and volume in their lashes. (If your natural lashes need an additional boost, ask us about Latisse®!) The lash lift curls your natural lashes upward, resulting in an improved appearance that lasts an average of 6 to 8 weeks.
What is Lash Tint?
Looking to darken and enhance your eyelashes? Like mascara, lash tinting creates a more dramatic appearance using semipermanent lash dye. This treatment will be most dramatic on people with light-colored lashes. Tinting is the ideal way to darken the color of your eyelashes, making them more noticeable. The pigment lasts an average of 6 weeks.
A Popular Life Hack for Low-Maintenance Glam
Lash extensions and strip lashes are out, lash lift and tint is in! This option is perfect for someone who wants a low-maintenance glam look, giving your eyes the dramatic effect you've been looking for! Enjoy this time-saving beauty treatment for a stunning look that makes your eyelashes appear darker and more noticeable for an average of 6 to 8 weeks.
Leader in Lash Lift and Tint
If you've been considering a lash lift and tint, you may have heard of Elleebana™. This brand is a leader in the industry and has been around for more than two decades. There's a reason we handpicked Elleebana™ for our lash treatments at Orlando Skin Solutions — Elleebana™'s products offer top-quality ingredients and outstanding results, especially in the hands of our professional lash experts!
The Elleebana™ lash lift at Orlando Skin Solutions offers:
The appearance of longer, fuller lashes
Nourishes and conditions your lashes
Formaldehyde-free
Sanitary single-use treatment kits
Reduces lash damage from over-curling
Opens the eyes and enhances the look of your natural lashes
Is suitable for long or short eyelashes
Fantastic alternative to eyelash extensions and strip lashes
Long-lasting results, even after swimming and showering
Can be used in combination with mascara
Treatments only every 6 to 8 weeks
Lash lifting and tinting brightens the appearance of the eyes, giving the illusion of longer, thicker, darker lashes and requires far less upkeep than eyelash extensions!
Wake Up to Beautiful Eyelashes with a Lash Lift and Tint at Orlando Skin Solutions
Are you ready to enhance the appearance of your eyes and enjoy a more polished appearance? Wake up to luscious, lifted lashes every day with a Lash Tint and Lift at Orlando Skin Solutions in Winter Park, Florida!